Good morning ladies! :) What's up for today? Miss Mya came down with a fever yesterday, so i'm 'babying' her and hoping it's short lived… I get so stressed out when my kids are sick… my stomach turns, etc… *blush* So we'll see how the day goes.. she's in good spirits though and seems to be doing ok so i'm very thankful for that! I'm just sticking around here today, wanting to start purging through stuff and decluttering… some early "spring cleaning"… ;) lol! I've been listing some stuff on Kijiji and so far, so good! Anyone else use Kijiji to buy or sell? I've sold a couple items in the last couple weeks, and it's a great way to help someone else out & declutter at the same time! ;)
Ok.. anyways, today I have my L'il Scrappers Card Kit reveal to share with you!! This  months card kit is absolutely GORGEOUS!! Lots of scrumptious pink! lol!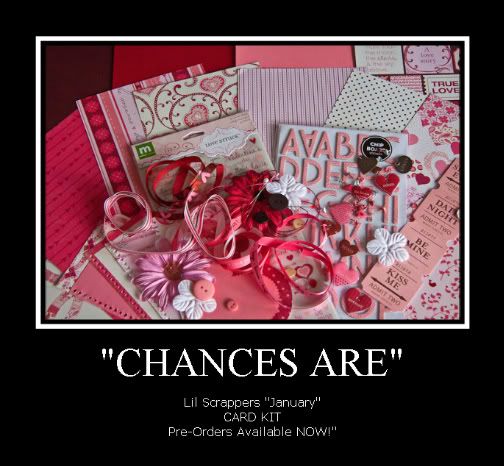 And here are my cards from it….
Mini 3×3 cards…
And there you have it! Gorgeous kit isn't it!?! YUM!!! This kit will be up for pre-order (Canadians only, sorry girls!!) at L'il Scrappers!!! Also be sure to hop on over to Aimee's blog to see her Card Kit reveal!! Aimee is my "partner in crime" over at LS! lol! Get ready to stay a while! Enjoy!